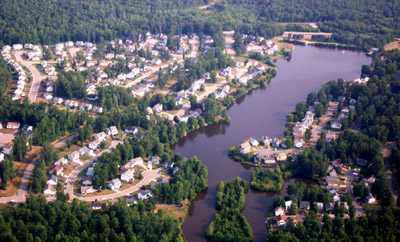 Almost every homebuyer is looking for that gem property that will provide a convenient location and good neighborhood at a price they can afford. Sure, you have a wish list of criteria you hope your home will meet, but let's be honest – it's not going to make the cut if it doesn't meet those initial qualities.
In this post, you're going to find the 5 reasons you'll want to call Ashbrook home and how it meets the "gem property" criteria for many homebuyers.
1. Location
Ashbrook is nestled on the southwest side of all the Swift Creek Reservoir communities in Midlothian, VA. It's just 3 miles from Rt. 288 if you hop onto Hull Street heading west. If your a local, you're likely very familiar with Woodlake, which is almost directly across Hull Street from Ashbrook.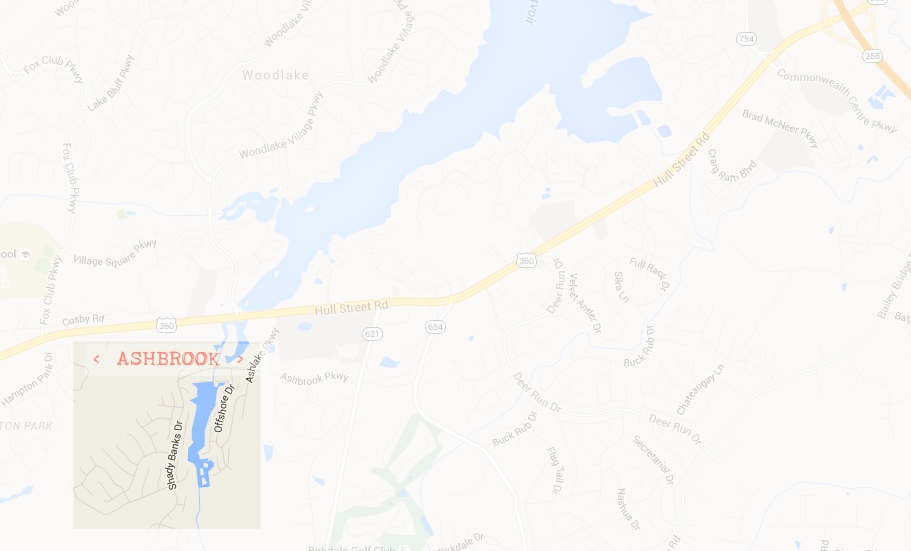 There are several big, popular neighborhoods all around Ashbrook. Brandermill, Harbour Pointe, Woodlake, Watermill, Deer Run, and Harper's Mill all make the list. The interesting thing about Ashbrook, though, is that it's one of the few that actually doesn't make the cut for Midlothian (23112). It's right over the confusing cutoff line, placing it in Chesterfield (23832). This qualifies homes in Ashbrook for special types of financing that many of the other neighborhoods would not.
Did I mention the location is convenient? Keep reading…

2. Growth
Growth on Hull Street is certainly moving west and Ashbrook is reaping the benefits. Without ever having to get back on the main road, you can easily arrive at Dick's Sporting Goods, Wal-Mart, Hobby Lobby, Starbucks, LongHorn Steakhouse, Qdoba, Sweet Frog… I could keep going.
Outside of shopping and [my personal favorite] food, there's housing development going on around Ashbrook too. Harper's Mill is full of nice, new homes and it's actually only accessible through Ashbrook or Hampton Park. Just minutes away (on the other side of Hull Street), FoxCreek is still producing new homes. It's a happening corridor, and the demand for housing will only keep growing around Ashbrook.
So, with all of the options for housing in the area, why does Ashbrook stand out? Again, keep reading…
3. Price Range
In all of the neighborhoods previously mentioned, you'd be hard-pressed to find a home under $200k. When I searched current homes for-sale within a 3-mile radius of Ashbrook, only 7% were listed at or under $200k. 30% of those homes were in Ashbrook. [There were also several in Deer Run.] If you've got a little room in the budget, there a few more currently listed under the $250k mark.
Because of the slightly smaller size options and lower price point, Ashbrook is a great option for first-time homebuyers, new families, and even down-sizers. Also, because it's right over the USDA eligibility line, Ashbrook is considered rural [even though it's definitely suburban] and qualifies for 100% financing [no down payment] for many homebuyers.
4. Lake Life
Despite being in a lower price range than some of it's "cousin neighborhoods" nearby, it still surrounds a lake [an offshoot of Swift Creek Reservoir] and contains many waterfront properties. Regardless of water frontage, living in Ashbrook gets you access to the water. There's a small boat ramp near the clubhouse and several hundred feet of bank to walk without tromping through someone's backyard.
[Here's a largemouth bass my son and I caught last summer.]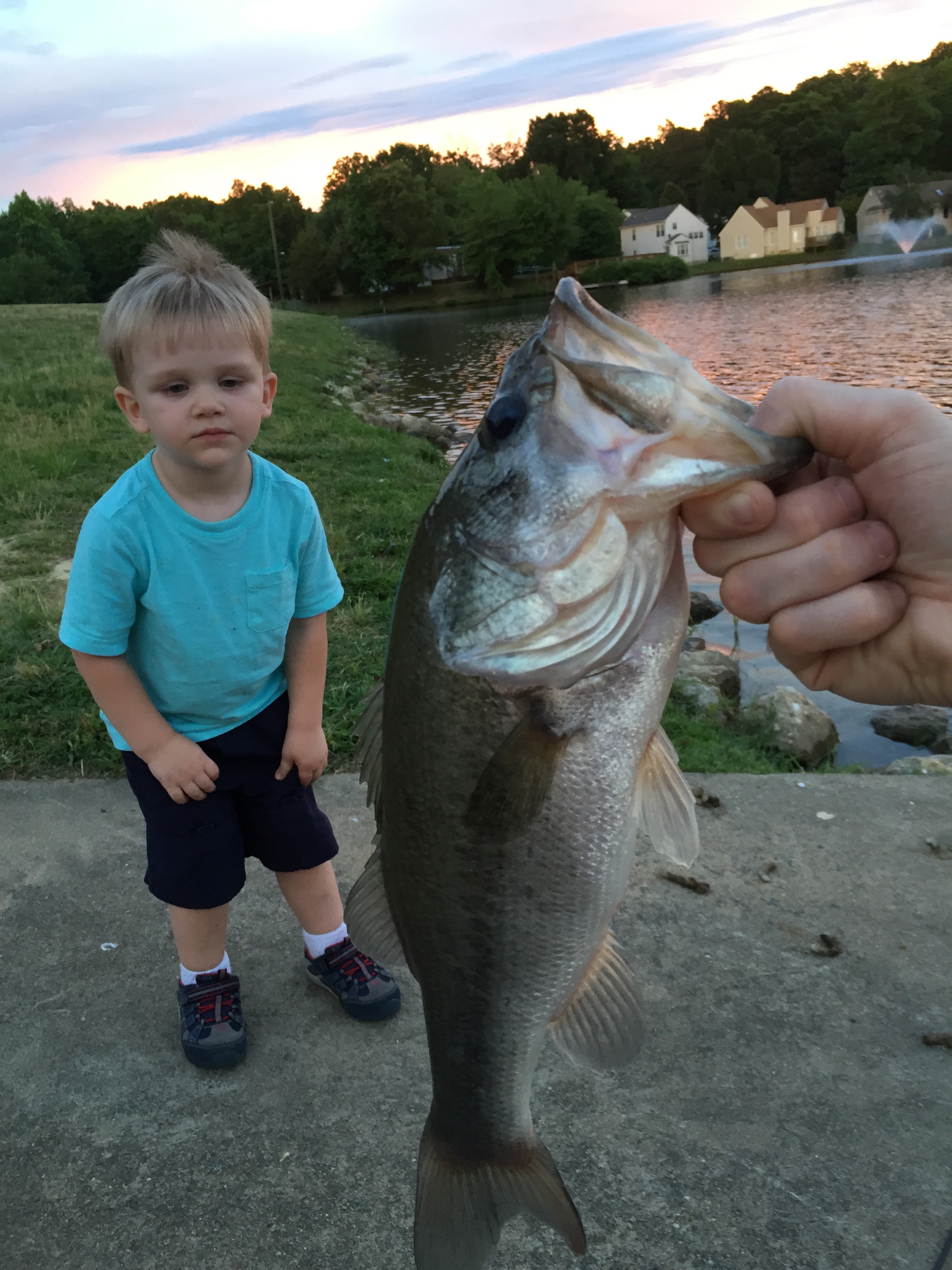 5. Community
In addition to the lake, if you enjoy walking/jogging, there are paved trails throughout the neighborhood, and you'll likely find the two playgrounds during your travels.
The community puts on several events a year, most of which take place at or around the clubhouse. The next event is in June – the 3rd Annual "We Gotta, Regatta" Decorated Boat Parade. Also, if you dig yard sales, the Ashbrook Annual Neighborhood Garage Sale is coming up on May 14th.
Summary
Well, that's Ashbrook for you! I had the pleasure of buying my first home there. I also got to sell that house last year. We staged it, had great pictures taken, priced it right, and it sold in just 4 days. As a matter of fact, I've sold more homes in Ashbrook than in any other neighborhood.
Here are a couple of homes currently for sale in Ashbrook:
7098 Featherchase Ct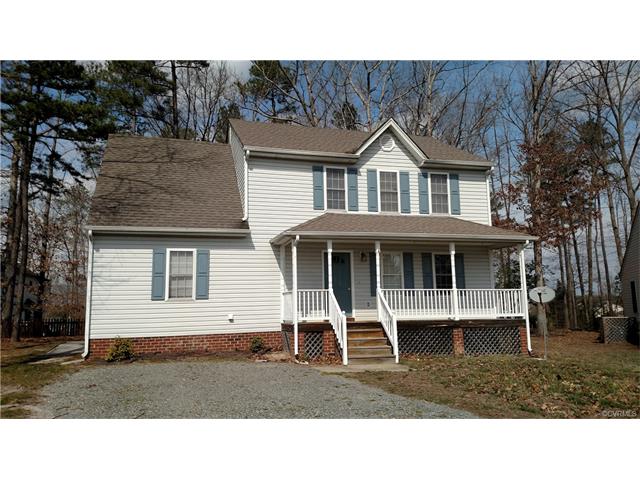 ***To find more homes in the area CLICK HERE.
***For questions about buying or selling contact me.